Drink in the week's most important stories — all in one place. In the time, it takes to drink your first cup of coffee, we'll help you get caught up.
University of Nebraska-Lincoln announced their Homecoming theme: "Bringing the Tradition Home". Anyone else seeing Scott Frost's actual homecoming to state as some inspiration here?
Homecoming week is a time for great tradition and activities. The week will kick off on Sept. 23 with a 5k fun run/walk. Students, staff and Lincoln residents gear up; there will be special events taking place all week. To see the list, continue reading here: (Nebraska Today)
Red Delicious and Pink Lady and Honeycrisp, oh my! This year's Applejack Festival, annually held in Nebraska City, celebrated its 50th anniversary last weekend.
The festival is held to mark the start of the city's apple harvest. The city received thousands of tourists this year to pick apples, taste wine, play games, attend parades and more.
Keeping its landmark anniversary in mind, the Applejack Festival returned to its roots with a back-in-time theme. The festival included some of the original activities such as reverse tug of war, a battle between two fire hoses. (Omaha World-Herald)
Nebraska will play a home game on Oct. 27 against Bethune-Cookman.
That weekend was originally the Husker's bye week, but the team will play to fill a scheduling gap created after the game against Akron was cancelled by foul weather on Sept. 1. (Lincoln Journal Star)
You might know him as a MTV reality television star, but Paul Delvecchio has taken on a new role: celebrity DJ. DJ Pauly D brought his set to Lincoln's Bourbon Theatre Wednesday night for a sold-out show. We're sure there was some fist-pumping involved.
Fun fact: before Pauly D was a member of "Jersey Shore," he would DJ small venues in his hometown. To find out more about his journey, keep reading (Daily Nebraskan).
Hurricane Florence: "A long way to go"
Hurricane Florence, a Category 1 storm, has subsided into a tropical depression. This means that the wind speeds have slowed, but the wreckage is just getting started. The death toll has climbed to over 35 people and millions have no access to power. Flooding is expected to increase over the next few weeks. Several communities in North and South Carolinas were evacuated, but according to FEMA Administrator Brock Long, the states have a long way to go before normalcy returns.(TheSkimm)
The body of a former golfer for the University of Iowa, Celia Barquin Arozmena, was found Monday in a pond at Coldwater Golf Course. Barquin, a transfer student from Spain, was the 2018 Big 12 champion and the school's Female Athlete of the Year.
After an abandoned bag at the course was reported to the police, the body was found in a nearby pond. Police dogs tracked her scent to a tent where a homeless man, Collin Daniels Richards, was presiding.
Richards was discovered with fresh scratch marks on his face, sand from the course and murder weapons. The drifter has been charged with first-degree murder. (The Omaha World-Herald)
A 26-year-old woman fatally shot three individuals and wounded three more, before fatally shooting herself at the Rite Aid distribution center in Harford County, Maryland.
The shooter was identified as Snochia Moseley of Baltimore County. Moseley, a temporary employee at the distribution center. She fatally shot herself in the head and was pronounced dead at a nearby hospital.
This shooting marked the third high-profile shooting in a span of 24-hours for the United States. (CNN)
McDonalds workers in 10 cities went on strike Tuesday over sexual harassment issues within the company. The strike is a result of 10 sexual harassment complaints filed by employees in May. Employees say that the company ignored the complaints.
Could this be what's next for the #MeToo movement? Read more here: (Vox)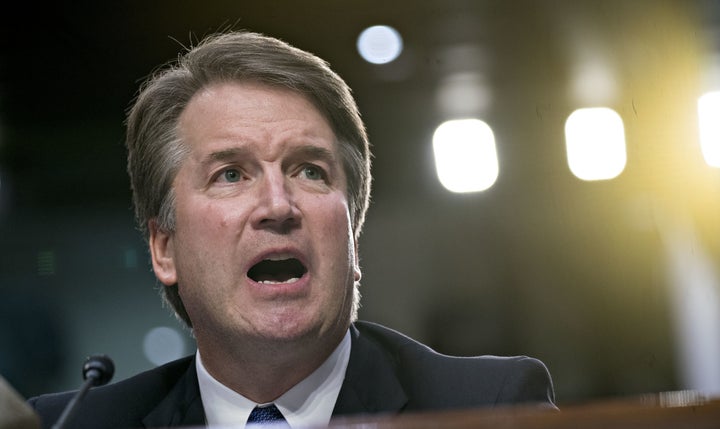 Four Harvard Law students are asking the university to reconsider if Brett Kavanaugh is allowed back for the 2019 school year. Kavanaugh has been a law instructor at Harvard since 2009.
"Unless a full and fair investigation is conducted, Harvard Law School cannot allow Kavanaugh to continue teaching its students," the students wrote in a campus publication.
Kavanaugh is up for consideration for a lifetime appointment to the Supreme Court. He is facing sexual misconduct allegations. (Huffington Post)
United Nations to assemble over the next few weeks
The leaves are falling and air is chilling. It's that time of year again. The United Nations General Assembly meets this week, as it annually does each fall.
This year hot topics include climate change, refugees, weapons and gender equality. The meetings will take place in New York City and President Trump is expected to speak.
Russia and China will not attend. TheSkimm
The Los Angeles City Council unanimously voted to draft an ordinance that would ban all sales of fur within Los Angeles. This ban would make L.A. the largest city in the U.S. to support this issue.
PETA and the Animal Hope Wellness Foundation were two of the main groups behind the proposed ban. Now, the city attorney will draft an ordinance and the council has 24 months to approve it. To stay involved, read more here: USNEWS
In Baker Mayfield, Cleveland trusts? Browns came back from 14-0 to win 21-17. To see some of the best reactions in Cleveland, read more here: (Sports Illustrated)
Dust off those old boots, UNL. We all know you have them. This year's homecoming concert will be held Thursday at East Campus Mall starting at 8 p.m. It will feature Drake White and the Big Fire, along with Eric Paslay. Bring your N-card for free admission! (Nebraska Today)
If country music isn't your thing, maybe thrifting is? Nebraska's favorite flea market is having a fall festival Sept. 28-30. The harvest will feature over 200 vendors, food trucks, live music and a petting zoo. Tickets are available online or at the gates on location. Even if shopping for old barn doors and repurposed lighting doesn't sound appealing, you can still celebrate a fun, fall tradition. Come check it out! (Junk Stock)
Celebration of Service, an annual event for honor UNL staff, will be held on on Tuesday.
"Our community is one of 6,500 faculty and staff who work hard every day to deliver on our mission of enthusiasm and heart," Chancellor Ronnie Green said. "This event is an opportunity to celebrate the talent and dedication of our people." (Nebraska Today)
---
Curated by Harper Lundgren and Ryland Pappas
---